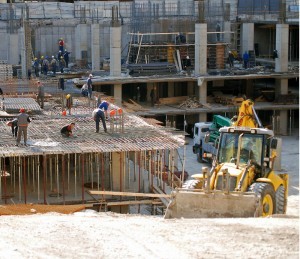 Construction workers in New York face some of the most dangerous working conditions in America.
Furthermore, increased development in New York City over the last few years has resulted in an increase in accidents and injuries in the construction industry.
Understanding the dangers of construction sites and your legal rights as a construction worker can be important
The Disability Guys have been representing all types of injured workers in New York for decades and are here to answer all of your questions. Contact us today at (866) 205-2415 for a free consultation.
Construction Sites: Hazardous Working Environments
In addition to performing work at dangerous heights, construction workers often deal with heavy machinery and equipment which can be very hazardous.
Unfortunately, the inherent dangers of the industry often result in serious construction accidents and workplace injuries.
Accidents On The Job Site
Construction workers are exposed to unique risks that workers in many other industries aren't. These unique risks often result in common types of accidents and injuries.
The "Fatal Four" is a well known term in the construction industry which refers to the four most deadly types of accidents that occur on constructions sites.
The Fatal Four accidents include:
Fall Accidents
Struck By Object or Equipment
Electrocution Accidents
Caught In or Between Heavy Objects
The fatal four are the most common types of accidents which result in fatalities on construction sites, however there are many other types of accidents which can occur and can lead to serious injury. Other typical accidents on construction sites involve scaffolding, cranes, falling objects, ladders, forklifts, heavy machinery and more.
Construction Worker Injuries
Construction accidents are inherently severe in nature due to elevated working conditions and the size of equipment used. While construction workers can suffer an endless number of different injuries, however some of the most common types of injuries include:
Back Injuries
Hand Injuries
Workers' Compensation & Disability Benefits
Construction workers frequently suffer injuries which can render them unable to work and earn a paycheck for extended periods of time while they recover. In addition to a loss of income, many injured workers incur costly medical bills due to their injury.
Fortunately, New York Workers' Compensation is designed to protect and support workers who become injured on a construction site. Workers' compensation covers certain expenses and a portion of lost income for all workers who become injured while in the course of work, regardless of what caused the injury.
While all workers injured on the job are technically entitled to workers' compensation.
Furthermore, New York State has certain laws in place to specifically designed to protect construction workers who are injured on the job. N.Y. Labor Law § 240 is known as the "Scaffold Law" and imposes absolute liability for injuries associated with elevated working conditions.
An injured construction worker may also be eligible for Social Security disability benefits in addition to workers' compensation.
The Disability Guys Represent New York's Construction Workers
If you've been injured on a construction site you may be entitled to compensation for your injuries and loss of income through workers' compensation, Social Security disability benefits, personal injury lawsuits or other avenues of recovery.
However, obtaining the compensation that you may need can be very difficult to do. In fact, more than half of all workers' compensation claims are initially denied and require appeals. Research shows that working with an experienced lawyer can help improve your chances of winning a claim.
The Disability Guys have been representing construction workers in New York for decades and are prepared to help you win your case. Call us today at (866) 205-2415 or contact us online for a free case evaluation.